There are many benefits to installing a whole-house iron water filter from Georgian Water and Air in Barrie, Ontario. A state-of-the-art whole-house iron water filtration system ensures your family will have safe, clean, and fresh-tasting water at all times. Our advanced home water purifiers can be used for all kinds of residences, including houses and cottages, as either a Point of Entry (POE) or Point of Use (POU) device depending on your needs. Whatever your needs are, Georgian Water and Air can provide you with a home water filtration system that provides you and your family with a water source you can enjoy every day.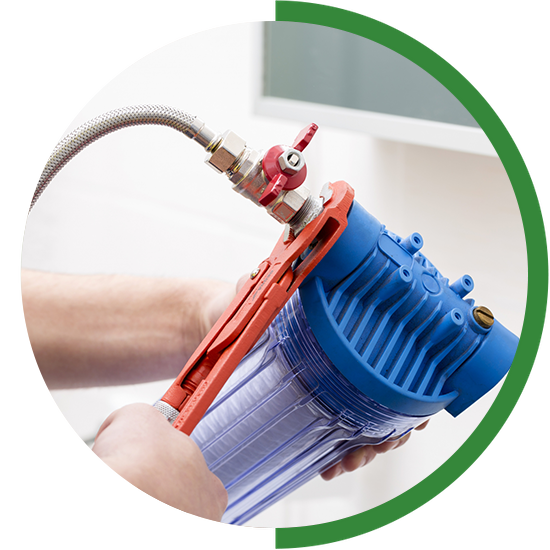 What Are Whole House Iron Water Filters?
Simply put, our home iron filtration system helps solidify iron that has been dissolved in your water so that it can be filtered out — providing you with clean water to enjoy each and every day. Our iron water filtration system utilizes an oxidizing media bed. This media bed catches soluble iron precipitates as water filters through. These iron precipitates are then converted into an insoluble state, so that they can be trapped by the filter, resulting in water that's completely free of iron. These filters are able to almost entirely remove the iron from the water in your home. Curious to learn more about our water filtration systems? Reach out to us today to find out more or get a quote!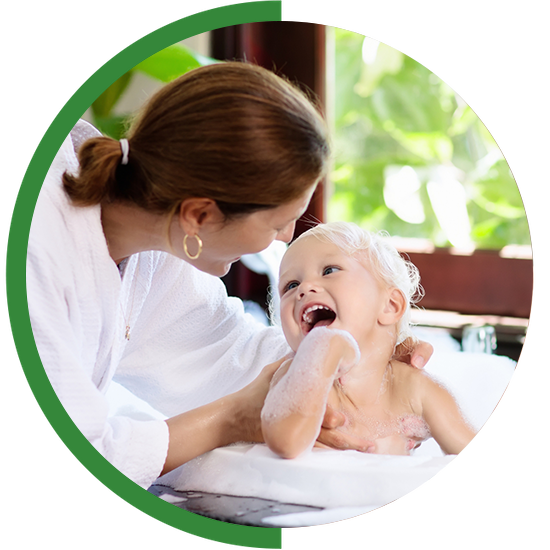 Why You Need Whole-House Iron Water Filters
Hard water caused by high iron content in residential water systems is the leading culprit for some of the most common water issues your home has. Signs of high iron content in your residential water include:
Foul-smelling water directly from your tap

Tap water that's cloudy or discoloured (yellowish-brown)

Water that leaves behind a white chalky residue

Mineral stains throughout your home (also known as watermarks)

Watermarks or spots left on dishes in the dishwasher

Weak water pressure from your taps, shower, and toilets

Filminess on your skin and hair every time you wash them

Clothes that come out of the laundry machine with dirt, discolouration, or stains
If you notice any of these signs while using water in your home, then you should arrange to have your residential water tested immediately. Although drinking hard water doesn't necessarily have any negative health effects, it can seriously damage your home's piping system over long periods of time.
Mineral buildup from hard water with a high iron content starts in your pipes. It can block seamless water passage through the pipes, causing some or a lot of the water to become trapped. In the winter, this water will freeze and it could cause your pipes to burst. These blockages also cause extremely low water pressure, which forces your appliances to work extra hard to perform simple functions and use up more electricity in the process. As your premier water purification company in Barrie, Ontario, we are committed to helping you prevent these negative side effects and damage to your home. For any questions surrounding our home filtration systems, reach out to Georgian Water and Air today
Features of Our Whole-House Iron Water Filters
The water filtration systems from Georgian Air and Water are packed with features and engineered to handle a wide range of residential water systems. Our filtrations systems feature the following:
Two ¾" Big Blue Housings connected in series and mounted on a bracket.

Pre-assembled system, saving installation time

Inlet/Outlet Ports – ¾" NPT

High Capacity 20 Micron Sediment Filter (20″) for sediment reduction

High Capacity 10 Micron Carbon Filter (20″) for chlorine taste and odor reduction

Maximum Flow Rate – 10 GPM

Max Inlet Pressure – 100 psi
Water Temperature Range – (4.4º C to 62.8º C)

Maximum Dimension – 16″ x 9″ x 27″

Pressure Gauges (0 to 100 psi) are installed at the inlet and outlet of the unit for pressure drop monitoring of the device. A high pressure drop indicates that the replacement filters need to be changed.

Ball Valves included in the accessories for ease of operation

Sump Wrench for ease of installation of cartridge filters

System Mounting Hardware included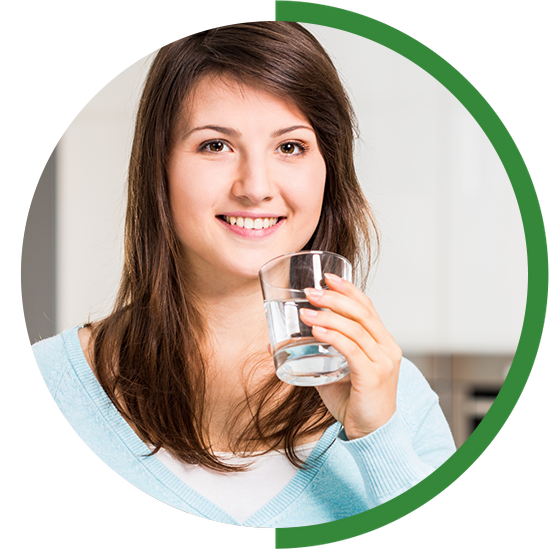 Benefits of Whole-House Iron Filters
Iron in your water can cause a number of problems for you and your family as you aim to live your life each and every day. While preventing damage to your pipes and a number of other negative effects of having iron in your water, having a home iron water filtration system has a number of different benefits:
Reduce rust particles

Eliminates odour and taste of chlorine in water

Reduces pre-RO filtration

Make iron insoluble

Removes sediment that causes bad taste and odour
If you think you have iron in your water and are looking for a water filtration system to clear the iron from your home water supply, get in touch with Georgian Water and Air today! We look forward to making sure that you have access to clean and healthy water.
Get Whole-House Iron Water Filters in the GTA
If you're looking for a home filtration system to protect your piping and have access to delicious, clean water, then you've come to the right place. Georgian Water and Air is one of the leading water filtration and purification companies serving residential properties across Ontario. We specialize in water filtration systems that help your home to have high-quality water whenever you may need it. Book a consultation today!